"Scissor Sisters: Live in Victoria Park - London 2011" on DVD!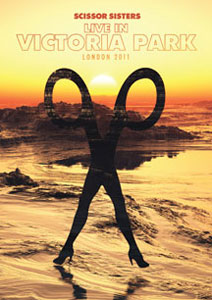 The Scissor Sisters certainly need no introduction, having toured around the world, collaborated with the likes of Elton John and Kylie Minogue and sold millions of albums. Bono from U2 describes the band as "the best pop group in the world."

Every one of their 4 albums reached the top 5 in the UK charts, with their first two albums making the #1 spot. Their most commercially successful single, I Don't Feel Like Dancin' (2006), charted at #1 in the UK and throughout Europe. They have released 18 singles to date.

This brand new DVD contains the stunningly electrifying performance from the Scissor Sisters at Victoria Park in London, on 17 July 2011. Colourful and glitzy as ever, the New York outfit who brought garish costumes and twisted disco sounds to the capital, fully embraced the weekend's flamboyant spirit.

Enter to win!

Thanks for visiting EDGE!
Click here to learn about the 365 Gifts Promotion »