"White Frog" on DVD from Wolfe!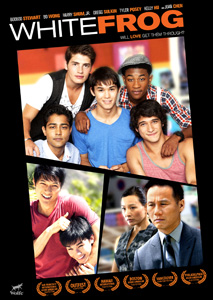 Wolfe

Presents

WHITE FROG

Chaz Young (Harry Shum Jr.) is the perfect son, the most popular kid in school, headed for Stanford, and unconditionally adored by his upwardly mobile parents (BD Wong and Joan Chen). His younger brother Nick (Booboo Stewart) lives in his shadow, brilliant but isolated by his Asperger's Syndrome. At home, Chaz keeps the peace between his father and mother while running interference for Nick, who is barely acknowledged by his conservative parents. When Chaz dies in a tragic car accident, the family spirals into disarray. In an effort to keep his brother's memory alive, Nick tentatively reaches out to Chaz's school friends to try making sense of his untimely death. In doing so, Nick quickly realizes that his brother had a secret life. The truth of his brother's life will change his own forever.

On DVD July 16!

http://www.wolfevideo.com

Enter to win!

Thanks for visiting EDGE!
Click here to learn about the 365 Gifts Promotion »